—

Body Treatments & Massage

—
Offering a Range of indulging & Relaxing Massage & Holistic Body treatments to help compliment and improve your overall Wellbeing.
Full Body Swedish Massage
The various Swedish massage techniques are designed to improve your circulation, soothe your muscles and make you feel more relaxed.
Swedish massage uses softer strokes on the bonier and more delicate parts of the body, and stronger strokes where there is thicker muscle coverage. This adjustment of pressure makes it an ideal massage for relaxation.
Luxury Swedish Full Body Massage
Also includes an oriental scalp massage.
Swedish Back, Neck & Shoulder Massage
A popular pressure massage that focuses on the build-up of stress and muscle tension in all areas around the neck, shoulders and across the back.  This massage encourages relaxation, relieves stress, improves circulation and relaxes muscles.
Luxury Back, Neck & Shoulder Massage
This luxury treatment also includes an oriental Scalp massage.
Besides the calming benefits, Swedish massage is thought to be good for:
easing muscular strain by flushing out toxins
improving circulation by increasing oxygen flow in the blood
helping to keep ligaments and tendons supple
reducing emotional and physical stress.
Therapists:  Kat, Olivia, Hannah
Warm Bamboo Massage
Warm Bamboo Massage is a treatment that incorporates heated bamboo sticks of varying lengths and diameter by using rolling and kneading movements to provide a holistic deep tissue massage that can be integrated into your existing Swedish or deep tissue massage, or as a stand alone treatment. Warm Bamboo Massage is a great alternative to a deep tissue massage or can be a relaxing treatment where the heat penetrates to a deeper level, influencing the body's internal energy flow (Chi); therefore bringing a balance to both Mind & Body.
Benefits of Warm Bamboo Massage
increased circulation and elimination of waste products
decrease in muscle spasms
decreased healing time for injuries
increased joint & muscle flexibility
increased lymphatic drainage
releases endorphins to promote relaxation and reduce pain
increases energy & vitality
decreases stress levels
increased skin suppleness
strong & smooth, the bamboo sticks adjust perfectly to the body contours, penetrating tense muscles and helping to melt away even the most deep seated tension.
increased peripheral circulation
Conditions Benefiting from Warm Bamboo Massage
Chronic aches & Pains
Back Pain
Respiratory problems
Headaches/ Migraines
Arthritis
Warm Bamboo Massage full Body 65 mins
Warm Bamboo Back Neck & Shoulders 45 mins
Therapists: kat,  Olivia, Hannah
Hot Stone Full body Massage
This is a massage performed using heated basalt stones.  Cool stones may also be used if there are any muscular injuries or inflammation.  As with other massage treatments, the benefits include:-
relaxation
stress relief
release of toxins
reduced pain
improved circulation
promotion of overall health.
Taking the above benefits into consideration it is believed to improve certain health problems such as
arthritis
stress
back pain,
depression
insomnia.
Hot Stone full Body Massage: 60 mins
Back Neck & Shoulder Massage/Legs: 40 mins
Therapists: Hot stone massage – Kat walters
Hot Stone Reflexology: Christine – please refer to the Reflexology Tab
Sports Massage
Sports Massage is an effective & beneficial form of physical therapy, not only for active sports people, or those requiring therapy after a soft tissue injury, but also for those people seeking relief from muscle tension or requiring massage for the maintenance of healthy muscles.  Massage can also help individuals who want to relax from the stresses of everyday life.
Benefits of a Sports Massage:
Massage is the most effective therapy for releasing muscle tension and restoring balance to the Musculoskeletal system.  Received regularly this may help athletes or active people prevent injuries, which might otherwise be caused by overuse.
A constant build-up of tension in the muscles from regular activity or poor postural biomechanics may lead to stresses on joints, ligaments, tendons, as well as the muscles themselves.   Sports Massage can be used to treat the stress, tension and fatigue that occurs through occupational, recreational or sporting activities.
It can also be beneficial to:
Help relieve that stress and tension which can hinder optimal performance & can built up as a result of stress, poor posture & daily occupational & recreational Activities. You do not need to be remotely sporty to benefit from a sports massage.
Reduce the likelihood of injury during exercise.
Speed up the recovery process and aid rehabilitation after injury.
Ensure full range of movement and increase muscle flexibility.
Improve postural and general body awareness
Reduce pain, tension & Headaches
For the more serious athletes sports massage can help at the different stages of participation. For example:
Pre competition
Inter competition
Post competition
Injury Recovery
Injury prevention
You don't have to be a sports person to feel the benefits!
Muscular tension, stress and fatigue can affect all of us, whether we are competitive or recreational athletes or have active or stressful lifestyles. Active or sedentary – you should find massage relaxing and therapeutic. Sports Therapy & Massage is also widely used in the corporate world for companies to assess & treat work related problems. Despite this being a deep tissue massage, the pressure can be adjusted to suit your needs & comfort. This will be discussed during your consultation.
Studies have shown a decrease in sick days amongst workers who regularly receive soft tissue treatments. It can have a positive influence both Physically & mentally.
Therapists: Hannah
Soft Cupping Massage
Soft cups are glided across the skin for a deeper relaxing massage. This promotes deep muscle pain relief, increases motion and improves lymphatic drainage.
The aim of cupping is to create a vacuum; this encourages blood flow to the surrounding area causing a small inflammatory effect but at a much quicker rate than the traditional massage techniques. This inflammatory response activates chemical mediators triggering the body's natural healing response.
Ultrasound images have revealed that the effect can reach 4" below the skins surface. Soft silicone cups are used to enable a gliding effect and creating a negative pressure which makes it suitable for those who cant tolerate the positive pressures of a traditional massage. The cups are used to draw toxins to the body's surface where it can be safely removed by the lymphatic system.
Cupping can be used as part of a lymphatic drainage treatment which requires the lightest of touch , facial rejuvenating treatments, cellulite reduction, scar softening or general massage including deep tissue. Pressures can be adjusted to suit the clients needs.
Soft Cupping explores the science of tissue gliding, traction and decompression and has many benefits. These include:
Improved Circulation
Muscular & skeletal problems – increasing range of movement, loosening adhesions & providing pain relief
Improves skin texture & tone by gently stretching the fibroblast cells. It also encourages the increase of natural collagen & elastin.
Helps soften old scar tissue
Relieves tension and fantastic for relieving Headaches & Migraines
Balances the nervous system by working the meridians and encourages the free flow of Qi.
Helps with metabolism & detox
Gentle enough to use on fibromyalgia patients who find positive pressure too painful.
Opens chest & lungs as works directly on the intercostal muscles so great for congestion or asthma.
Facial cups help drain sinuses effectively
Cellulite reduction
With the cups being moved regularly it is unlikely to leave marks unlike the traditional glass cups but holds the same benefits.
Therapist: Hannah
Myofascial Cupping
is a modified version of the ancient Eastern style Cupping, specifically targeting the musculoskeletal system. This type of soft tissue therapy involves the application of decompressed cups on the skin, creating a vacuum effect that lifts up underlying tissues such as the fascia, muscles, blood and other fluid close to the surface of the skin. Cups are generally left in place for ten minutes, although this can vary. The skin will normally redden due to congestion of blood flow and some circular bruising is to be expected and may stay visible for up to 2-8 days.
Benefits of cupping include:
– Stimulate blood flow
– Drain lymph and cellular debris
– Separate layers of connective tissue to bring hydration and blood flow to body tissues
– Soften tight muscles
– Relieve deep muscular tissues and reduce muscle spasms
– Lift and stretch soft tissue to separate fascial restrictions
– Move stagnations of lactic acid and metabolic waste and enable normal lymphatic flow to promote healthy circulation and help strengthen the immune system
Therapist: Hannah (used as part of her therapy treatments, when necessary).
Back Facial 
Our Back says a lot about our skin Health. Just Like our face, its so important to that we treat these areas to achieve a  glowing & radiant complexion, by removing the build up of impurities which block our pores and lead to skin irritation & spots.
This treatment is suitable for everyone, it may be particularly appealing to active individuals.
What to expect:
Performed by a qualified Beauty Therapist the treatment will start with a hot steam on the back, this will open up any pores to allow blackheads, sebum and oils to be extracted from the back.
This will be followed by a dry brush exfoliation, a double cleanse & manual exfoliation scrub & a Mask.
This Back treatment will end with a relaxing back, Neck & Shoulder Massage.
Treatment time: 45 mins
Therapist: Olivia
Prices can be found on our App or book online button
Holistic Treatments
Indian Head Massage
An indulgent head to toe massage with essential oils blended specifically for you. A treatment which has derived from Ayurveda, an ancient method involving natural therapies, taking into account of mind, Body & spirit which is extremely relaxing and calming.  It is a great stress buster.  You will be seated for this treatment, in which the client remains fully clothed.  Indian Head Massage concentrates on the head, neck, face, arms and back.
The use of oils both for the hair and body is an optional part if the treatment which can be of extra benefit if used.
Benefits Include:
Reduced Stress
Increased Condition & Growth by stimulating the Hair Follicles
Increased Energy Levels
Improved Circulation
Efficient removal of impurities and Toxins
Stimulation & Improved Circulatory & Lymphatic System
Indian Head Massage: 60 mins
Therapists: Kat & Christine
Indian Head Massage with Reflexology  90mins : Please refer to Reflexology Tab
Therapist: Christine, Kat
Holistic Facial
Using Neal's Yard essential oils and a blissful massage technique this facial will leave skin looking amazing and helping you to feel deeply relaxed. The Holistic Facial is a blissful way to relax whilst assisting in slowing the facial aging process by soothing & rejuvenating your skin. 
Benefits include:
Help to achieve younger & healthier looking skin
Relieve Stress
Relieve Migraines & Headaches
Reduce & support Premenstrual symptoms
Reduce Sinus congestion
Therapists: Christine & Kat
---
Thai Foot Massage
This involves the feet, lower legs and hands. Reflex points on the feet are targeted which correspond to the internal organs of the body.  Thai foot massage stimulates these points, promoting a greater sense of health and wellbeing.
Benefits include:
Reduced stiffness & flexibility
 Improved circulation & toxin removal
 Stimulated lymphatic drainage
 Accelerated physical healing
 Stress relief
Improved sleeping patters
Therapists: Christine
Treatment: 60 mins
Indian Head Massage plus Facial Reflexology  ( includes facial Reflexology) please refer to Reflexology Tab
Reiki is one of the most ancient healing methods known to mankind. it originated in Tibet and was rediscovered in the 19th century by a Japanese monk named Dr Mikao Usui. The tradition of Reiki is referred to in 2500 year old writings  in Sanskrit, the ancient Indian language.
Reiki is a natural and simple healing method which allows you to absorb more life force energy. The Reiki method vitalizes your life force and balances the energies in your body. The natural healing energy flows in powerful and concentrated form through the hands of the reiki healer. The laying of hands directs the healing energy into the body of the receiver. The Reiki Healer is used as a channel to conduct the universal life energy.
Reiki usually helps
healing of all kinds and help to relieve pains & acute symptoms very quickly.
It also has a positive influence on spiritual growth.
Reiki effects each person differently, but always acts wherever the receiver needs it most plus experiencing a very deep sense of calm and peace.
Therapists: Christine: 60 mins
A blissful combination of Reiki with Crystals, energy healing to balance, cleanse and heal the chakras and aura. This then follows on to recieve a Reflexology treatment on either your feet or face, you decide.
Reflexology is based on the theory  that different point on the hands, feet, lower legs and face  represent & correspond with different areas and systems within the body. These points are worked on during this treatment to help you find a sense of balance.
Note: A wider variety of Reflexology Treatments can be found under Reflexology Tab. 
Crystal Healing
A healing and natural therapy that taps into the energetic  power of crystals and how they affect the body and mind. Crystal Therapy will involve healing crystals on or around a client to help unblock, focus and direct energy.
Therapists: Christine
EMMETT  Technique
Muscle relaxation technique to help balance the body. Benefits reported include:
more restful sleep
enhanced mood
a sense of lightness within their body
improved comfort and ease within the areas treated such as back, abdomen, hips, legs, knees, ankles, feet, shoulders, arms, hands and neck.
Most people report an immediate and significant improvement with the problem that has been troubling them. Many people who previously had limitations on what they could do, find that they can perform these actions more easily after treatment.
Treatment can be carried out seated, standing or on the massage couch. Client can also remain fully clothed, this will not affect the treatment at all.
Can be used as a stand alone treatment or coupled with any of the others. This can be discussed before the appointment or during the initial consultation.
Therapists: Kat
Staff
CHRISTINE PERROTT IHHT; MPACT; F.H.T I have always been passionate about Natural Heath and how amazing and capable the body can be in healing itself. Before my journey began to become a Reflexologist I managed…
---
My name is Kat and I am a Level 4 Complementary Therapist offering Advanced Massage, Aromatherapy, Reflexology  & Indian head Massage during any stage of life including pregnancy and palliative care. Since qualifying I have…
---
Level 3 Qualified Beauty Therapist and Professional Makeup Artist with over three years experience. Using award winning products such as Neal's Yard Organic Remedies, Clinic care and Magpie Beauty to name a few, I offer…
---
Hannah Hopkins BSc (hons) our Sports Therapist is a Gold member of the Sports Therapy Organisation & is fully endorsed. Hannah has extensive experience working with a range of individuals, from the general public to…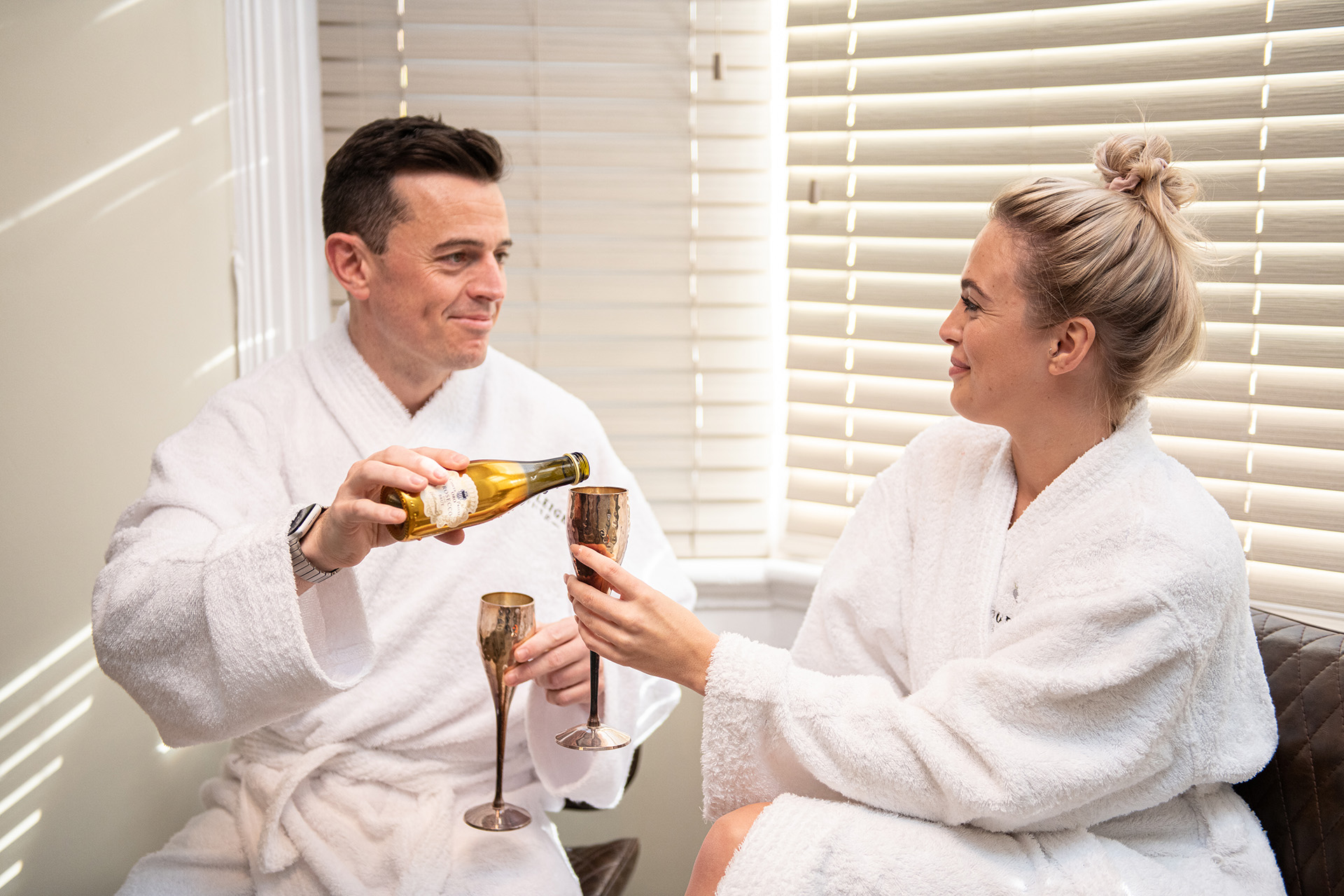 ---
—

Other Services you may be interested in

—
—

Customer Experiences

—
Bronleigh House is a warm and inviting holistic space at the heart of Neath. There is a wide range of treatments available and even a Kitchen offering food and refreshments for loved ones to relax and wait if required. The staff are professional and warm and you are made to feel at home, the second you step inside this contemporary wellness centre — with Ruth D Evans and Nicola Giles.
Visited the cafe for lunchtime snack and was very impressed, lovely outdoor area, lovely food and friendly staff, will definitely visit again.
Feeling brand new after my foot detox and facial reflexology. Absolutely amazing . Cant recommend enough!! Thank you so much Christine !! Xx