Bronleigh House is a Multi  Award winning Health & Wellbeing Clinic providing a  multidisciplinary approach using Complimentary, Alternative & Conventional therapies, Classes & Services; treating your Health & Wellbeing as a whole.  In house there is a Coffee Shop & Kitchen 'Rupert's Coffee Co and a boutique shop 'Bronleigh Lifestyles', which sells an array of fashion & clothing, homeware and occasional gifts; making it a place where you can linger for longer if you wish.

Bronleigh House was established in 2018 and is a large Victorian Building, where many of its original features were restored during renovation in 2017-18 and still remain today. It overlooks Neath town with a beautiful backdrop of the countryside and is surrounded by enclosed private & picturesque gardens where you can relax with friends over a healthy lunch. Come and experience the peaceful, yet vibrant & welcoming environment, where you can choose from a choice of treatments to suit your needs. We offer a range of treatments & services to compliment your Health & Wellbeing, suitable for both Men, Women & children. We also have disabled access & ground floor treatment rooms, making our services accessible for everyone. You do not need to use our services to enjoy the Coffee House and Café, you can also use it to meet with friends or grab a coffee or lunch on the go.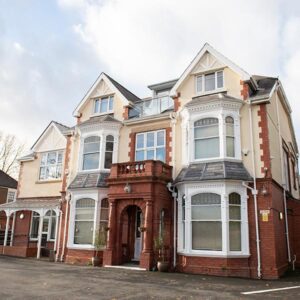 Hannah, the Owner and founder, is also a therapist at Bronleigh with her Sports Injury Clinic "H.H Sports Therapy" which was established in 2010. With her experience in Business & Treatments and her passion for Health & Wellness,  she felt that creating a multi- disciplinary Clinic would provide a whole and holistic approach to the Health & Wellbeing of her clients. This led to the idea of creating the clinic, alongside a team of experienced and specialist therapies to compliment your Health & Wellbeing as a whole.
Our Commitment to providing quality treatments is reflected by our highly qualified therapists and in the choice of our professional products. We aim to use as many natural products as we can within our treatments, and are proud to stock Neal's yard Remedy products & signature Treatments. Our products use natural and organic ingredients, which are free from harmful chemicals. The health and beauty brand has developed a wonderful range of skin care, Aromatherapy products, mum to be & baby products, food supplements, home fragrance & hair care which are available to purchase at our Clinic.
We look forward to providing you with a warm, welcoming & enjoyable experience with us.
Winners of the "Multi-disciplinary Clinic of the Year" in Cardiff & South West region Prestige Awards – 2020 & 2021.